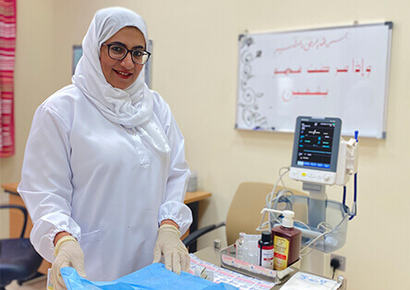 Asmahan, the brave nurse who arrested while on duty serving cardiac patients
While the routine work, she suddenly collapsed. Her colleges, the OPD nurses rushed to save her life and immediately started CPR. The cardiologist and anesthetist joined shortly and continued the ongoing life-saving efforts while other patients and relatives witnessed such a heroic scene.
Despite all the efforts by the pediatricians, her baby could not be revived and born dead. She had an implanted defibrillator by the skillful cath lab professionals.
ICU was her next residence for a week or so, where she received a high level of care and treatment by the intensivists, perfusionists and gynecologists.
The most devastating step was breaking the sad news to her that she lost her baby. She cried but was grateful to God that she is still alife, healthy with minimal complications.
Asmahan joined back her workplace, continuing her passion and loyalty to serve cardiac patients. She is thankful to be surrounded by such a friendly, professional and skilled teams who saved her life.