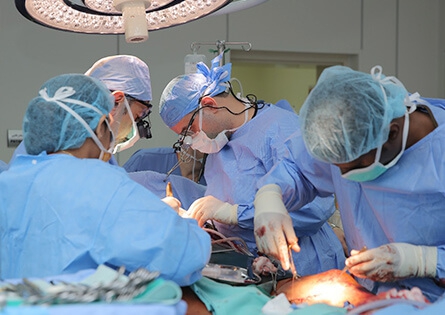 Professionalism. Dedication.
Are you planning on scheduling a surgery? Does your loved one need specialized treatment or a prevention surgery procedure?
Here at our surgery service, we are teamed with the best qualified intelligent surgeons and specialized consultants to offer you a high-standard surgery that fulfills your medical requirements.
Our team does not only perform daily procedures on urology, vascular, endocrine, cancer, and tumors associated surgeries but provides focused surgical care for critical and complex cases from various surgical specialties. The service plays a major role in the training of Omani surgeons by providing well-planned educational and training programs.
It provides a multidisciplinary service of networking and collaboration with all other surgery units in the country to deliver the best patient-centered care service.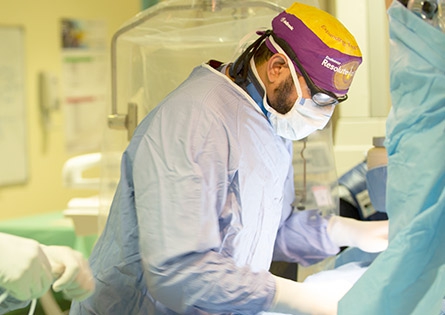 The department of Surgery is an effective element in providing all local hospitals with the highest surgical services, whether by receiving referrals or by visiting hospitals and performing complex operations in them. As well as seeking to support academic and practical cooperation with various tertiary and secondary hospitals in order to provide all the new updates in surgery and also to benefit from other experiences.
The Centre of Surgery works side by side with educational and training institutions in the Sultanate in order to prepare and train Omani surgeons at the highest level, and there are many efforts exerted to receive and educate medical students in the academic years and then train them during the year of internship.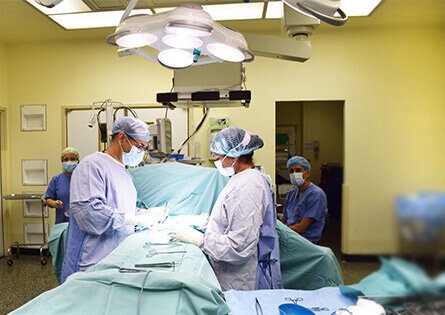 Duties and tasks of the Surgery Department
Covering the surgical service at the Royal Hospital
Covering surgical services at all levels in Muscat
Treatment of complicated surgical cases referred from within the Sultanate or from other tertiary hospitals
Carrying out all surgical services in the event of disasters and mass accidents
Continuing to train surgical residents from the Oman Medical Specialty Board, as well as teaching medical students and Interns
Training of specialists in various surgical specialties and then joining them to secondary hospitals in order to improve the surgical services in these hospitals without the need to transfer cases to tertiary hospitals
Provide the up to date in Oncosurgery and work hand in hand with the National Cancer Center
It is a tertiary surgical providing specialized care unit for the citizen of the sultanate of Oman with mission to deliver most advanced and updated specialized people-centered care along side promoting and undertaking continuous education, Training, research and innovation for its staff, surgical residents, and medical students.
Alongside the clinical part, the department implements the professional values between its staff and the others including the patients, such values as teamwork, safety first, integrity & respect and others which made the department the leading body for other surgical units.
General Surgery department consist of.
General Surgery Department Achievements
2019

- Upper Gastro-Intestinal Surgery unit - Introduction of Revision Bariatric Surgery
2018

- Hepatobiliary Surgery Unit - Live Donor Liver Transplant
- Upper Gastro-Intestinal Surgery unit - Introduction of Laparoscopic Gastric Bypass Surgery
2017

- Upper Gastro-Intestinal Surgery unit - Introduction of ERAS in Bariatric and Upper GI surgery
- Breast Surgery Unit - Wireless Gamma probe for Sentinal Lymph Node excision
- Endocrine Surgery Unit - Endoscopic Thyroidectomy
2016

- General Achievements - Introduction of Out-reach laparoscopic surgery to peripheral hospitals
- Colorectal Surgery Unit -Total Pelvic Exenteration with Ileal Conduit and HIPEC
- Breast Surgery Unit - Reconstruction Breast Surgery service - Implant-based and Local Flaps
The department looks after patients with arterial, venous or lymphatic diseases as well as vascular access issues for dialysis in renal failure patients. Apart from patients with varicose veins, vascular malformations and vascular trauma who are mostly young and healthy, majority of the department's patients are elderlies with co morbidities like diabetes, ischemic heart disease and renal diseases.
The latter group of patients is increasing in prevalence in tandem with increasing life expectancy and the change in life style in Oman.
Services
Every Sunday vascular clinics
Every Wednesday vascular access clinic
Every Monday multidisciplinary diabetic foot clinic at National Endocrine and Diabetic Centre
Round the clock In-patient services
On call 24/7 for vascular emergencies and surgeries
Daily morning and evening ward rounds for in-patient care
Operating every Tuesday and Thursday for elective and urgent vascular and endovascular procedures
Every Wednesday endovascular procedures in Cath-lab
The Urology section provides care for various pathologies such as Urinary stones:
- Extra-corporeal ShockWave Lithotripsy (ESWL).
- Endourological procedures: Cystoscopy, Rigid Ureteroscopy, retrograde intrarenal surgery (RIRS) using a flexible ureteroscope and laser therapy, percutaneous nephrolithotomy (PCNL), open pyelo-nephrolithotomy.
Lower urinary tract symptoms: Prostate surgery (TURP, Open prostatic adenomectomy), Prostatic Artery Embolization (PAE) in cooperation with the Interventional Radiologists (IR), treatment of urethral structure either through endoluminal procedure (Internal urethrotomy) or through open repair by BMG (Buccal mucosa grafting) urethroplasty.
Urological cancers: Management of renal cancers, upper tract urothelial carcinoma, bladder malignancies, prostatic and testicular cancers.
Treatment of urinary tract infections.
Management of functional disorders: neuropathic bladder, erectile dysfunction.
ESRD: Renal transplantation in cooperation with the Nephrology Department. The Urology Department is an active part of the National Transplantation Program.
Congenital genito-urinary abnormalities.
Genito-urinary trauma.
The division of Paediatric Urology at Royal Hospital offers Diagnosis and specialty care for a wide range of developmental problems affecting the kidneys, bladder, urethra or genital tract.
For example, commonly seen conditions include:
Bladder extrophy (congenital abnormality that occurs when the skin over the lower abdominal wall does not form properly. The bladder is open and exposed on the outside of the abdomen).
Cloacal anomalies (abnormal congenital confluence of the rectum, vagina, and urethra into a single common channel)
Hernias
Hydronephrosis (kidney dilation, detected prenatally or in childhood)
Hypospadias (urine passage ending short of the end of the penis)
Intersex (incomplete or otherwise abnormal development of the genital organs)
Kidney stones
Neurogenic bladder from spinal cord lesions, such as myelomeningocele
Re-do urology surgery
Testicular tumors
Undescended testicles
Pelviureteric junction obstruction (blockage of urine flow from the kidneys)
Vesicoureteral reflux (backup of urine from the bladder toward the kidneys)
Wilm's tumor and other kidney tumors in children
Specialties
Endourology
Uro-Oncology
Minimally Invasive Surgery
Reconstructive Urology
Renal Transplantation
Robotic Surgery and Andrology
Form its humble beginnings in a Portacabin on the premises of the Khoula hospital in October 1985, to half occupancy of the Pediatric Orthopedic ward with one Consultant and on Medical Officer to its current standing as one of the leading centers in the region has been an exciting journey.
The main mission of the Pediatric Surgery Department at Royal Hospital is to provide surgical care for children in a friendly and family-centered environment. The department consists of highly skilled experienced paediatric surgeons who are specialized in paediatric general surgery and urology for children in various stages of their lives from the womb to birth until the age of thirteen years.
Since patients are the center of our mission, the paediatric surgery team, made up of surgeons and nurses, understands that surgery can be stressful for the child and the family. Therefore, we respect the needs of each patient and work together to ensure the child's well-being.
To fulfill our mission, we promise:
To treat every child and family with dignity, compassion, and respect
To utilize the expertise of the entire team and other hospital services to provide the best care for every child
To discuss all alternatives related to treatment with patients and families
Act as an advocate for every child in the health care system. Keep patients and their families fully informed of their treatment plan and address concerns in an open and honest manner.
We also in the paediatric surgery department encourage families to share their experiences and suggestions with us at any time during or after their child's admission to the hospital.
Sections
Paediatric General surgery Division
Paediatric Urology Division
Neonatal Gastrointestinal surgery
Neonatal Thoracic surgery
Neonatal urological surgery
Paediatric Gastrointestinal surgery
Paediatric hepatobiliary surgery
Paediatric oncology surgery
Paediatric endocrine surgery
The Division of Paediatric General Surgery provides comprehensive care to neonates, infants and children with surgical problems. Diagnosis, consultation, management, and follow-up of inpatients and outpatients are being done by the department.
Pediatric Surgery department consist of.
Gastrointestinal surgery
The department provides multidisciplinary care for neonates, infants and children, with complex colorectal or upper gastrointestinal conditions.
Hepatobiliary surgery
The department is involved in operations involving the liver, gall bladder and pancreas whether they are due to congenital or acquired conditions.
Surgical Treatment of Childhood Cancer
The department is a major referral center for childhood cancer in the country for cases requiring surgical intervention. The department also takes care of General Surgical Complications of Cancer Therapy.
Minimally Invasive Surgery
Minimally invasive surgery is an innovative method of surgery that allows for smaller incisions, less pain, and faster healing. The department has some surgeons who are expert in minimally invasive surgery.
Trauma Care
Provide immediate evaluation, consultation, and care of children involved in trauma.
Newborn Congenital Anomalies
Newborn congenital anomalies, often referred to as birth defects, have a variety of causes ranging from pregnancy or birth complications to genetic malformations to viral infections in utero. The department is involved in the management of these newborns who have surgical conditions.
Thoracic Surgery
In general, paediatric thoracic surgery involves diseases or injuries to the area of the body between the neck and the abdomen. Our Surgeons are specialized in general paediatric thoracic surgery, whether congenital, such as a birth defect, or acquired, such as pneumonia.
Inguinal and Scrotal Disorders
Disorders involving a child's inguinal (groin) and scrotal area are frequent and the most common condition treated by the paediatric surgeons at our hospital.
Head and Neck Disorders
Our Paediatric surgeons treat a wide variety of head and neck masses, including inflamed lymph nodes and neck lesions.
Vascular Access
Inserting a central line is one of the most common procedures performed at Royal Hospital, whether for medical purposes or for treatment. Our surgeons are also involved with vascular access.