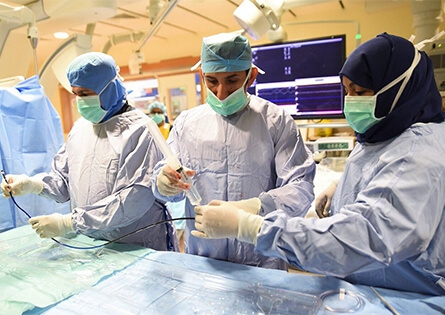 A center of excellence for all cardiac conditions
The National Heart Centre is a leading cardiovascular centre in Oman. Over the years, we have established our reputation as one of the best heart care destinations in the Gulf region. We employ the most advanced techniques to treat heart diseases and use the best technology available to reach the most precise diagnosis, the most optimum medical care and the best clinical outcomes.
Here our consultants and specialists are able to provide the best comprehensive range of cardiac procedures, and surgeries including the most complex, and provide a high-quality specialized cardiac investigation using the latest imaging technology and highly advanced sophisticated cardiac diagnostic interventions.
National Heart Center major achivements
2019

- IHF godlen award for best project for Catheterization laboratory inventrory managment.
2018

- Third country in the world to do Sinus Venosus ASD closure percutaneously.
- Leadless Pacemaker implantation
2016

- Live transmission of cases in international conferences. More than 700 open heart surgery per year.
- Percutaneous implantation of aortic, pulmonary and tricuspid valve.
- More than 6000 cardiac catheterization per year
- 3D mapping for Electro physiology procedures and Zero flurscopy technique
2015 - 2019

- Three fold increase in Electrophysilogy procedures from 2015 to 2019
- More than 50% increase in cardiac catheterizaiton from 2015 to 2019
- More than 30% increase in congenital cardiac catheterizaiton from 2015 to 2019