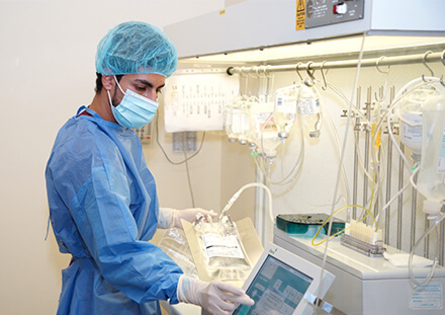 Out-Patient Pharmacy service includes prescription dosing validation, dispensing, and counseling patients arriving from out-patient clinics.
In- Patient Pharmacy service includes prescription dosing validation, prescription dispensing, and patient counseling for discharge patients and ward supplies for admitted patients.
Compounding Unit provides the service of compounding sterile products (Total Parenteral Nutrition and I.V. admixture) and non-sterile products that are extemporaneously prepared for pediatric patients.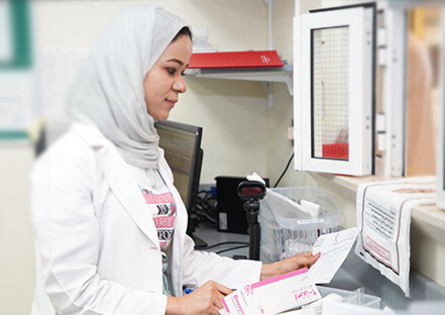 Clinical Pharmacy is a patient oriented service, aiming to deliver pharmaceutical patient care needs in the way of improving therapy outcomes. It provides prescription validation, prescribing support, patient education and therapy monitoring.
Medicines Information and Training Centre provides medicines information to patients, medical staff and other healthcare professionals. It is also responsible for in-service education and training pharmacy students from different institutions.
Satellite pharmacies: National endocrine centre pharmacy, national heart centre pharmacy, national oncology centre pharmacy, obstetric & gynaecology pharmacy.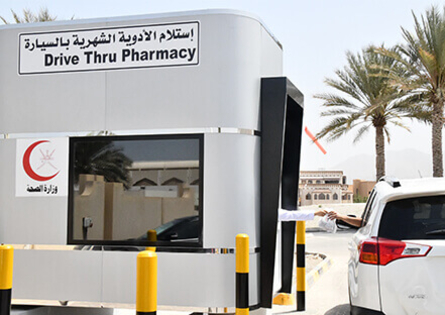 Other Services
To facilitate medication collection for monthly prescriptions, and in line with the current social distancing measures because of COVID-19, other services have been launched to ensure that the patients are able to receive the prescription without having to collect in person at the pharmacy:
Home Delivery Service
Drive-Thru Pharmacy
All divisions of Pharmaceutical Care Department work from 7.30.am to 2.30pm except the In-Patient Pharmacy, which remains open for 24 hours, and serves hosptal's wards and Accident and Emergency Departments.