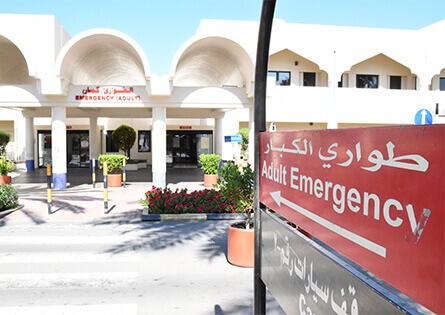 Experienced. Supportive. Engaging
Emergency medicine plays a pivotal role at The Royal Hospital and it's highly recognized nationally for excellence in patient care. No matter what your emergency is you will always be treated and seen by expert consultants and specialized nurses who will provide comprehensive full-spectrum medical care.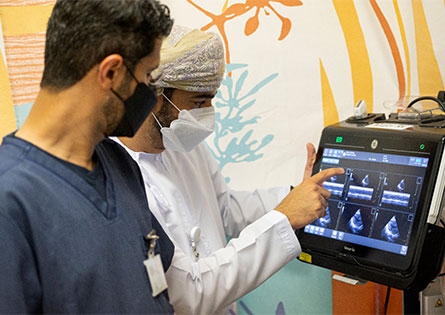 The nursing team in emergency department is highly qualified and skilled in critical care nursing. Many of the nurses are qualified with post basic emergency nursing care, bachelor's in nursing science and Master in advance and professional practice in nursing. They provide specialized set of care involving triaging the patients according to the emergency severity index (ESI), resuscitation care of all critically ill patients, provide treatment and observation for patient in the department till disposition to home or admission. They are trained and ready for any disaster situation which need to be managed at Royal Hospital management level. Nurses at emergency department are certified providers of lifesaving procedures like Basic Life Support (BLS) and Advanced Cardiac Life Support (ACLS).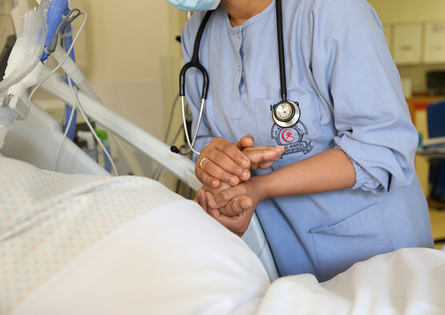 Our physicians and nurses are involved in transporting critically ill and mechanically ventilated patients to national and international destinations.
The Emergency Department treat extensive list of acute health conditions such as Heart Attacks, Strokes, Trauma, Asthma, Heart Failures, and Cancer Emergencies to name few. With COVID 19 Pandemic, the department made huge efforts and showed great resilience to continue the care of all patients despite all the challenges.
With modern concepts of LEAN and patient's flow innovative designs, this unique place has achieved a lot of remarkable improvement in patients care and easy accessibility to hospital services.
Our Team are always there for the patients for life-threatening situations. Our goal is to attend to your urgent healthcare needs with expert care as promptly as possible.
Our facility includes the following:
Continuous Professional Development
The Emergency Department team is continuously working to develop and upscale their knowledge, skills, and practice.
In addition to regular continuing medical education meetings, the department organized scientific conferences (2018 & 2019) and participates in other national and international conferences. The Department encourage research strongly and many studies have been published and more to come every year.
The Department team is the drive workforce instructors in Advanced Cardiovascular Life support and Point of Care Ultrasound in the hospital as Instructors.
Many of our team are the reference in the hospital and nationally in many subspecialities including Emergency Medical Services and ambulance, Toxicology, Disaster Medicine and Quality & Improvement.
Annually, our team are trained with resuscitation course and triage course as vital refreshment courses and once every two years they are re-certified with BLS and ACLS certificates for skills sustainability.
The department is an accredited training site for the Residents in Emergency Medicine and trains students from college of Medicine at Sultan Qaboos University, Nursing Schools and universities and other collages nationally and internationally.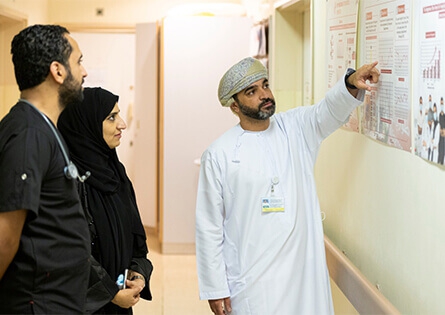 The Adult Emergency Department is making continuous and vigorous efforts to provide an excellent care as expected, through the continuous improvement of the existing services and developing them as needed to cope with the scientific and practical variables. It also put the patient's experience and safety as a top priority while providing care.
The Adult Emergency Department is considered as one of the leading departments in implementing the strategy of facilitating care and services provided to patients. This contributed to elevating the quality of care provided and reduction of the patients waiting time for getting the needed care.
Emergency Department Major Achivements

- Three folds increase in the number of patients seen in the ED in 10 years.
- Actively running scientific research

- 80% of the patients are seen, assessed, managed, and disposed in < 4 hours.
- < 4% ED revisits within 48 hours.

- Zero % of patients left without being seen.

- 27 minutes is the average waiting time to be seen by ED physician.
- Organize and participate in international conferences regularly