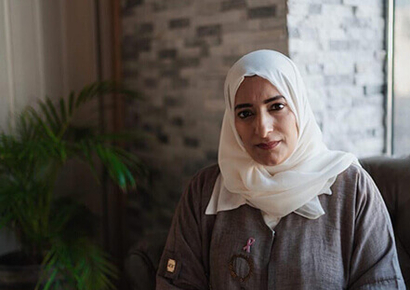 Radhiya : the woman who visits Cancer Patients and fuels them with HOPE
When you ignore the alarms from your body and the awareness messages ,you will probably have to suffer a serious issue; cancer is an unpleasant guest which could change your life forever, this was the case with Ms. Radhiya, who was diagnosed with Breast Cancer and metastatic to other organs including her skeleton (back and pelvic).
Despite all the disappointing talks and discussions about the poor prognosis, Radhiya would not quit without a fight. She decided to use all the available resources and treatment modalities. Her battle was not to be successful and fruitful without her backup and support: her loving husband and caring family. She needed to do it also for her children, mainly the one who was still growing inside her when she was diagnosed.
The journey was neither easy nor smooth; and it had to be between the Royal Hospital and treatment abroad, whatever it took to overcome the situation.
Now, MS. Radhiya is a well-educated mother and woman, an inspiring person who visits the Royal Hospital regularly for supporting other patients and even their families. She believes that a person has to accept all what God sends him/her regardless the happiness or pain in it. Accept it with high spirit, God will do the rest.